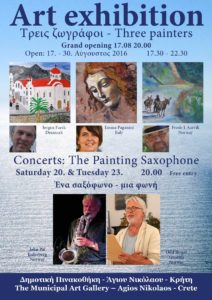 It is summer in Crete and there are many wonderful events happening all over this beautiful country.
Here in our own Aghios Nikolaos, "the heartbeat of Crete" from 17 August to 30 August, 2016, there will be an exhibition at the Municipal Art Gallery, entitled, "Three Painters". The three are from Norway, Italy and Denmark.
We are very pleased to note that the Danish artist is one of our many talented clients. Joergen Faerk is a Danish painter and sculpture living in Kritsa. His wife Christine says, "Kritsa was the place we wanted as it is a good size with friendly people. Together with Crete Homes we found a small house with magnificent views. The following year we bought another small house, to be used as a studio and guest house for our family. As we realized we wanted to spend more time there, especially after retiring, we sold the original house and bought the larger house next door, which needed complete renovation. We really enjoy the way of life in Kritsa and in Crete generally".
Also contributing to the exhibition is another of our clients, the Norwegian writer and journalist Odd Birger Groenli, who also bought in Kritsa. Continual visitors to the island of Amorgos, he and his wife chose Crete to buy because it was easy to reach, warmer than the Cycladic islands and an excellent island on which to have different kinds of adventures.
Odd relates, "We got a lot of professional help from Hilary Dawson at Crete Homes, who also lives in Kritsa and so had several stories to entertain us and could share her vast knowledge of the area, with us. Our main purpose was to find something real in a place with a nice atmosphere, nice tavernas, nice people and a great view; a village not too big and not too small. Kritsa. A place to rest, write and feel good. Or as John Lennon used to say: 'Peace and love'".
Odd will be reading poetry while John Paal plays saxophone. He is one of Europe's leading saxophonists. Odd continues, "Together with some friends in Sitia Kritsa and Norway we are planning an art exhibition with three painters and including poetry and music, in Aghios Nikolaos from the 17 – 30 August. The texts will be in English and some of them are about Aghios Nikolaos, Kritsa, locals and tourists".
Participating in the Exhibition are Emma Paganini, a painter from Genova, now living in Sitia; Frode Aarvik, a Norwegian painter; John Pal Inderberg the award winning saxophonist.and professor in music improvisation.
The opening will be at 20.00 on 17 August and entrance is free throughout the Exhibition, which will be open from 17.30 to 22.30 every day. Since the planning of the Exhibition there are two new guest exhibitors, Maria Kontogiorgaki a jewelry designer from Sitia and Marin Iordanof, a painter from Bulgaria. The two Jazz Poetry concerts are on Saturday the 20th August and Tuesday 23rd of August, at 20.00 hours.
Everyone is welcome.